To look at the sunny side of everything and make your optimism come true.
Program Schedule
Thursday, March 2nd General Meeting, American Legion, 5:30pm, Presentation of Award for Essay Contest Winners
Tuesday, March 28th Preliminary Oratorical Contest
Thursday, March 20th Oratorical Contest Finals, SDMS, 6pm
2023 Art Contest
First place winner, Pencil and Charcoal. Jacob Payne.
OPTIMIST SUPPORT WORWIC SCHOLARSHIPS
The Club will provide $40,000 in financial support to WorWic Community College Scholarship program this current school year.
Eligible students must meet the following criteria:
A resident of Worcester County, Maryland 17-20 years of age
Enrolled in a credit program taking 6 or more credits OR Enrolled in one or more non-credit courses including continuing education or workforce development
Cumulative grade point average (CPA) of 2.5 or higher This is a need-based scholarship with preference given to students with the greatest financial need. An effort will be made to award at least one student from each high school in Worcester County (presently Pocomoke High School, Snow Hill High School and Stephen Decatur High School).
The recipients of this scholarship and the amount of each scholarship shall be selected by representatives of Wor-Wic Community College Foundation.
"WHO IS AN EVERYDAY HERO THAT BRINGS OUT THE OPTIMISM IN YOU?".
FUNDING
The Delmarva Titans Organization were provided $500 for equipment. The funding will go towards a program of travel ball including softball and baseball for sixteen girls from Worcester County.
Ocean Pines Children's Theatre. The Club provided and additional $500 toward their next production.
Believe in Tomorrow. Funds were provided for a Believe in Santa Breakfast. The Club annually provides $3,000 to Believe in Tomorrow.
Worcester Youth & Family Counselling. $1000 was provided in November 2023.
Worcester County Public Schools Counselors. Club member and SDMS Counsellor Cherie Townsend is organizing bring 22 counsellors from Worcester County to a conference in Cambridge in March. The Club provided $3,500 for travel cost and fees.
Art Contest The Club annually provides funding to sponsor the Worcester County Art League contest for high school students. This year $2000 in prizes were awarded to winnder in three categories. See our programs page for this years winners.
Veterans Memorial Fund. The Veterans Memorial provide a unique opportunity for kids in Worcester Country to learn about Veterans and their contributions. For 2023 the Club provided $5,000 to support an educational documentation video for fifth grade students in the County.
Toys for Tots. The Club annually provides funding to Toys for Tots. With the inflation in prices for kids gifts this year the Club increased funding to $5,000.
Coats for Kids. The year purchased and distributed 340 coats to school children in Worcester Country. This brings our total purchases for kids this year to $9,000.
Library Books for SDMS. Club member and Media Specialist from the Steven Decatur Middle School requested funding for Kindness Books for the school. The Board approved $2000 towards their requirements. Thanks to Cheryl Lynn Brown for bringing these needs to our attention.
Berlin Intermediate School.. The Optimist Club donated $2,000 to the Berlin Intermediate School as part of their annual funding for school events.
Ocean Pines Anglers Club. Every year the Anglers Club host their annual "Teach a Kid to Fish" program, and our Club provides financial support. This year we provided $750 toward trophies and rod reels.
Force Baseball. The Club donated $5,000 to Force Baseball. For the purchase toward new pitching machine we provided $2,000. Toward travel and general annual expenses we provided an additional $3,000.
Junior Achivement of the Eastern Shore. The Club annually provides funding to the Junior Achivement group here on the Eastern Shore. This year we provided $1,000 toward their programs for kids in our community.
OPTIMIST INTERNATIONAL ESSAY CONTEST
The 2023 topic for the International Essay Contest is "Who is an Everyday Hero that Brings Out the Optimism in You?".
The Winners for 2023 were: Sydney Todorov, Worcester Prep, First place $500 Marian Hanna, Stephen Decatur, Second place $350 'Jude Damouni,Worcester Prep, Third place $150
The 1st place winner, Sydney, will have her essay submitted into the District Level to compete for a Scholarship Award of $2,500. The District contest will occur during the District 3rd Quarter Meeting at the Carousel Hotel in Ocean City.
Ocean City/Berlin Optimist Club High School Art Exhibit/Competition
The Ocean City/Berlin Optimist Club's High School Art Exhibit/Competition was held at the Worcester County Arts Council's, Berlin, MD throughout the month of February. $2,000 in prizes were awarded in three categories, Drawing, Painting, and Digital.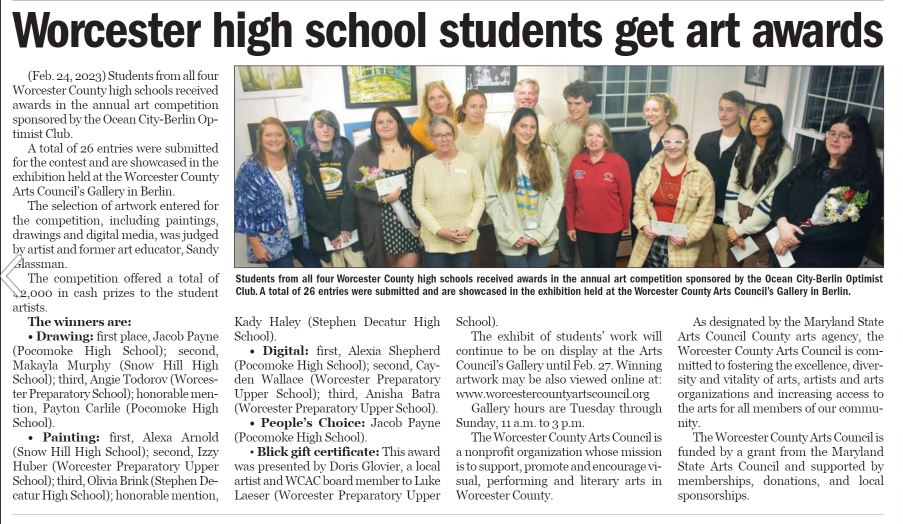 Coats for Kids
The Ocean City Berlin Optimist Club provide winter wear for kids in need. This is organized through the individual school counsellors. In 2023 we purchased and distributed 340 winter jackets in schools in Worcester County.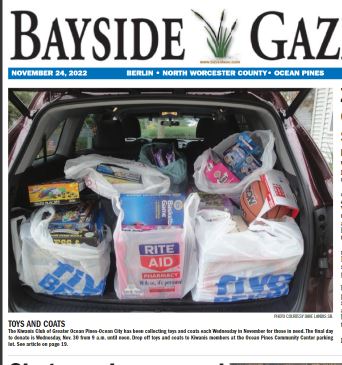 OPTIMIST SUPPORT WORCESTER COUNTY VETERANS
MEMORIAL FOUNDATION
The Club donated $2,000 to the Worcester County Veterans Memorial Foundation to assist in fees for transportation of the children to the annual field trip. The information below is a summary as provided by the Veterans Memorial Foundation Vice President Susan Pantone.
Through the cooperative efforts of the Worcester County Board of Education and the Worcester County Veterans Memorial Foundation, every fifth grade student in Worcester County participates in a field trip to The Veterans Memorial. Volunteer docents teach the children about the sacrifices of our veterans, the founding of each branch of service, US participation in various conflicts, flag history and etiquette. The JROTC cadets from Stephen Decatur High School, Snow Hill High School and Pocomoke assist in teaching the 5th graders proper flag handling and flag folding. Prior to the field trip, the students are given an opportunity to view our new documentary "Heroes All". The video gives an overview of the Memorial, it touches on Maryland and military history, and various conflicts in which the United States has participated It also highlights "The Wall That Heals", which The Memorial had the honor of hosting in the Spring of 2021. The students are also given a colorful and interactive Student Activity Booklet. The students are encouraged to share the booklet with their families and thus learn of their family's contributions and military service. We are proud of this award winning program and thank all who support The Worcester County Veterans Memorial.
NATIONAL CENTER FOR YOUTH ISSUES
The Club provided $3500 toward expenses for 22 Counselors from Worcester County to attend the National Center for Youth Issues. The event will take place in Cambridge this coming March.
https://ncyionline.org/conferences/md-scac/


front row left to right.. Linda McGean, Denne Bowen, Tammy Funk, Stephanie Zanowic back row left to right.. Lauren Williams, Val Riley, Staci Aperance, Michelle Bankert, Marcea Redden, Josh Horsman, Ari Johnson, Veronica Hayes, Stephanie Covington, and Erica Hensley

RIBBON CUTTING CEREMONY BOARD OF EDUCATION
Last year the Club donated $25,000 to the BOE for creation of their Imagination Studios. Due to Covid restrictions the ribbon cutting ceremony was postponed and this past November the Club was presented with a plaque from BOE during their Board meeting.
The space is a state-of-the-art professional development center.

Board of Education President Elena McComas, Roger Pacella, Cristina Dolomount Brown and Superintendent of Schools Lou Taylor

TOYS FOR TOTS
Ocean City Berlin Optimist Club presents a check for $5,000 to Toys for Tots in Worcester County. Bill Hickey, Past President, Dena Holloway, Coordinator, Maryland Lower Eastern Shore, Marine Corps Reserve Toys for Tots, Christina Dolomount Brown, President.

Berlin Christmas Parade
The Ocean City Berlin Optimist Club participated in the Berlin Christmas parade this December. Pictured are members of the Snow Hill Marching Band with the Clubs float. The Float displays the Pontoon Boat that will be gifted during the 40th Annual Seaside Boat Show this Febuary.
At the parade last night-